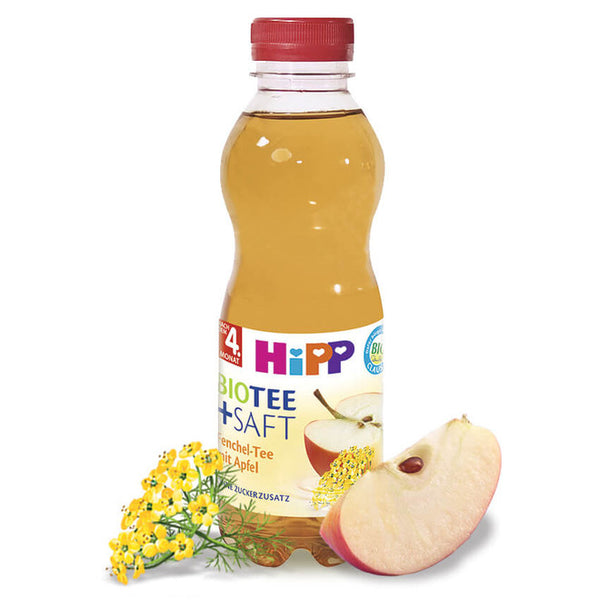 From 4 months onwards
1 bottle contains .5L (16.91 oz)

100% organic

1/3 Organic Juice and 2/3 Organic Tea 

Naturally occurring sugar  
EU Organic regulated
HiPP-Bio Seal (surpasses the EU organic requirements)
Made in Austria 
HiPP Organic Fennel Tea and Apple Juice is suitable for babies from 4 months onwards. Made with organic HiPP quality ingredients with no added sugar. This nutritionally balanced, mild tasting mix of fennel tea and apple juice is the ideal drink to quench your baby's thirst. 
HiPP is a family owned business that has been bringing the best organic baby food to families for 60 years. Through years of research, HiPP Nutritional Science has created a variety of products that suit the different needs of babies. They are the world's largest manufacturer of organic raw materials and currently have more than 8,000 farms around the world. HiPP farmers do not use harmful chemical pesticides and encourage natural pest controllers like hedgehogs, owls and hawks. In addition to sustainable farming, all seeds and seedlings come from organic nurseries. Aside from producing healthy organic ingredients sustainability is another one of their main focuses. HiPP's natural farming methods contribute to biodiversity and boosts surrounding ecosystems.
No added sugar or aromas 
No preservatives 
No dyes
Low in acidity 
Gluten Free
No GMO
Fennel tea* 67% (water, fennel extract*), apple juice* from apple juice concentrate 33%.
* From organic production
Care Instructions:
Good until the expiration date indicated on each bottle in European format (DD/MM/YYYY)
Once opened store in the refrigerator and consume within 3 days